A BMW factory test driver, driving a new 7er G1x prototype was involved in a crash Saturday morning. The 7er driver(42-year-old) hit a Polizei van(30-year-old) t-boned it and the Polizei van flipped over. Inside the Polizei van were three policeman. All parties involved escaped with only minor injuries.
The accident occurred on the B27a (Theodor-Heuss-Straße) in downtown Stuttgart – as several Polizei cars(&vans) were responding to robbery call shortly after midnight/1AM. The Polizei had their blue lights and sirens on.
According to media reports, the Polizei van(with three policemen aboard) came to a stop at their RED light… the driver of the 7er was proceeding under a green light. The BMW factory driver was testing a new (night)driver's aid. Its unclear if the accident was driver error or a sw issue.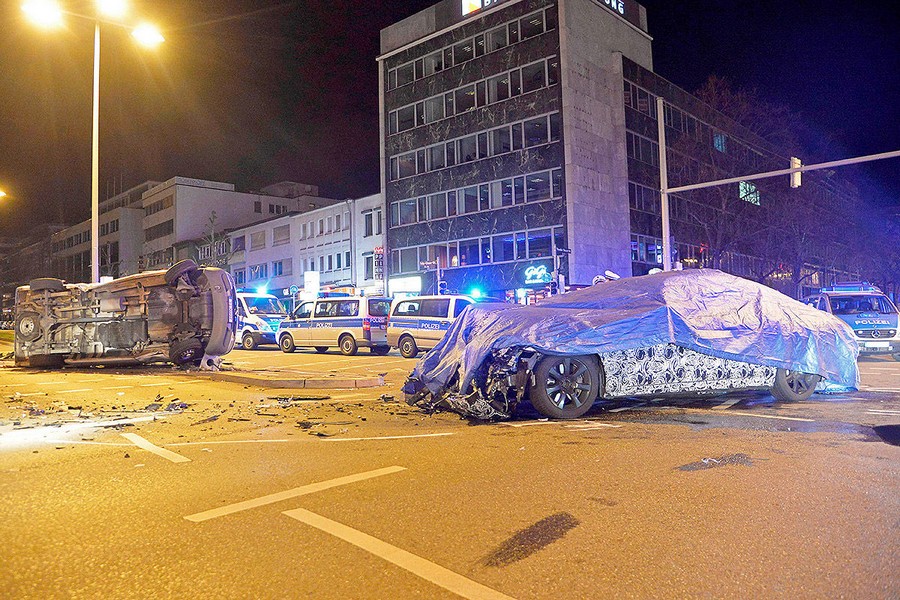 Both drivers have conflicting accounts of what happened and who had the right of way – and whether the Polizei had their blue lights and siren on at the time of the accident. The prototype was covered up shortly after the accident. BMW has offered their assistance in helping solve who was at fault. For now all that is known, is the damages are at least 150,000 euros.